We've done our best to create a web site that anticipates and satisfies our customers' needs. If you do not find an answer to your question here, please contact us by phone at (970) 493-4541-
Q: Can you just plug in the SpinCycle to recharge it?
A: Yes, you can plug all of our electric cycles into a standard electric outlet with the supplied adaptor. A full charge takes only four hours to complete, or you can purchase our solar charging station to recharge your tricycle completely off the grid!
Q: How does the RunAbout Cycles SpinCycle Electric Human Hybrid Tricycle compare with a bicycle in terms of riding comfort?
A: Our electric tricycles are much more comfortable than a traditional bicycle, providing a wider adjustable padded seat and a relaxed, yet upright riding position, as well as a fully adjustable pedal distance.
Q: How much weight can a RunAbout Cycles SpinCycle Electric Human Hybrid Tricycle carry?
A: RunAbout Cycles are designed to safely carry a rider of up to 250 pounds along with up to 100 pounds of cargo in saddlebags secured to the rear rack, or in a trailer.


Q: Why would I want to buy a RunAbout Cycles SpinCycle Electric Human Hybrid Tricycle, when I could buy a used car for the same amount of money?
A: We consider our electric cycles a great investment, better than even a hybrid car! Here are four reasons why: Health, Cost, Environment, and Fun.
Health: Riding one of our electric trikes is better for your heath than driving a car. Cycling strengthens your heart and lungs without placing unnecessary stress on your joints. It naturally tones the body's musculature, and remains one of the best cardiovascular exercises that one can do. Our tricycles have a low center of gravity, a wide wheelbase, and are designed to hold your body in a safe, comfortable and relaxed position while you ride.
Cost: When compared with the cost of maintaining a car, our trikes outperform standard automobiles. Our tricycles cost far less then a car to operate, traveling up to 40 miles on a single twelve-cent charge. Compared to the price of operating a car, where one might pay over three dollars a gallon for gasoline, traveling about half the distance, at thirty times the cost! Our tricycles do not require automotive insurance or a driver's license to operate. Just put on your helmet, and you're ready to go!
Environment: Our SpinCycle Electric Human Hybrid Tricycle are a smarter purchase then a used car, because they do not consume fossil fuels, they are green zero emission alternative transportation and are better for the environ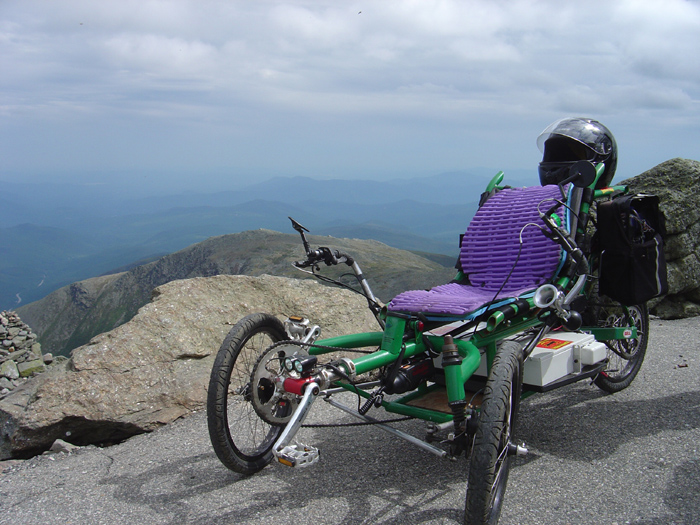 ment than even a hybrid automobile. The batteries we use can be recharged thousands of times, allowing a RunAbout Cycle to be ridden over 100,000 miles between battery replacements.

Fun: Finally, our SpinCycle Electric Human Hybrid Tricycle are much more fun to ride then any used car you are likely to buy. If you have the opportunity to stop by our Fort Collins, Colorado workshop you can take one of our electric trikes for a test ride and discover this for yourself!

Q: Why do RunAbout Cycles electric human hybrid tricycles cost as much as they do?
A: There are two answers to this question:

One: We utilize fine quality parts, including Lithium Ion U-1 Valence batteries and high quality electric motors. These are only two of the nearly 300 components that are assembled into a single electric cycle.

Two: Each RunAbout Cycles frame is hand made from precision cut and TIG welded aircraft grade 4130 cromoly tubing. It is then powder coated (painted) with custom colors. Each tricycle is carefully assembled from nearly 100 custom made parts and over 200 other standard bicycle components.

Q:

How can I order a

RunAbout Cycles SpinCycle Electric Human Hybrid Tricycle

?


A:

You can contact us in Fort Collins, Colorado, USA.
Please Call: 970.493.4541.